Code of Silence
Winner of the 2022 Investigative Reporters and Editors' Book Award.
Winner of the 2022 Texas Institute of Letters' Carr P. Collins Award for Best Book of Nonfiction.
---
"A long overdue exposé on how the judicial system suppresses claims of sexual harassment against judges. In this new era of reckoning with sexual assault and harassment, Code of Silence is essential reading. "

***Click here for book release events.***
Order Now:
Add your review on Amazon or on Goodreads.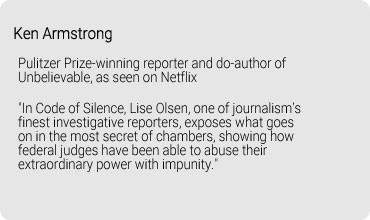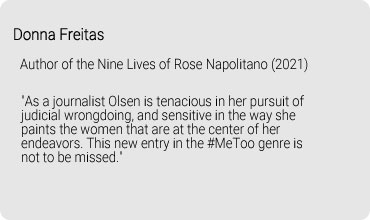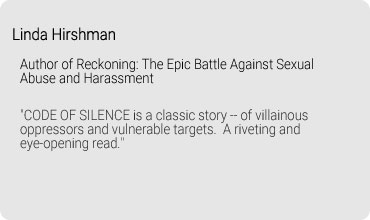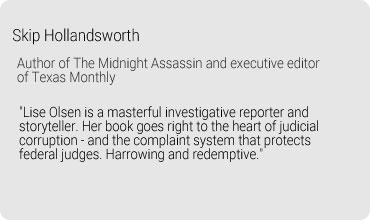 "Olsen debuts with a deeply reported exposé of how the U.S. federal court system enables abusive behavior by judges who are appointed for life...An enraging and eye-opening account of corruption and abuse within the halls of justice." Read review
-Publishers Weekly
"Code of Silence is a beautifully written, disturbing as hell example of how the American experiment fails when it lets men set themselves up as kings." Read review
-Houston Chronicle
An investigative reporter reveals flaws in how Americans hold federal judges accountable for sexual misconduct and shows how whistleblowers have brought some to justice. A well-documented exposé of a broken system for policing errant federal judges. Read full review
-Kirkus - Code of Silence
"Another "true crime" book is being published later this month. But Code of Silence by Lise Olsen is not like most books - or podcasts -of that popular genre. For starters, there is no murder. We know who dunnit from the beginning. And it is anything but insensitive toward the victims and their families, a common criticism of many true crime stories. The culprit this time wasn't a marginal member of society. U.S. District Judge Samuel B. Kent was a federal judge, known for both his brilliance and his bullying." Read review
-Rick Casey, San Antonio Report
"A gutting new #metoo book," Read review

-Rose Cahalan, Texas Monthly
"As a journalist Olsen is tenacious in her pursuit of judicial wrongdoing, and sensitive in the way she paints the women that are at the center of her endeavors. This new entry in the #MeToo genre is not to be missed."
"CODE OF SILENCE is a classic story -- of villainous oppressors and vulnerable targets. You would think it was a fairy tale, except it is wrenchingly true. Lise Olsen, one of a growing class of heroic journalists who acted when all the other agencies of governance failed, tells the story of the men who routinely sexually abused and harassed the women in their power, and, wait for it, they were judges. Who will judge the judges, indeed? Thanks in part to Olsen, the women got some justice in the end. A riveting and eye-opening read."
"In Code of Silence, Lise Olsen, one of journalism's finest investigative reporters, exposes what goes on in the most secret of chambers, showing how far too often, and for far too long, federal judges have been able to abuse their extraordinary power with impunity."

Code of Silence tells the story of federal court employee Cathy McBroom, who had to flee her job as a case manager in Galveston, Texas, after enduring years of sexual harassment and assault by her boss-US District Judge Samuel Kent. Following a decade of firsthand reporting at the Houston Chronicle, investigative reporter Lise Olsen charts McBroom's assault and the aftermath, when McBroom was thrust into the role of whistle-blower to denounce a federal judge.

What Olsen discovered by investigating McBroom's story and other federal judicial misconduct matters nationwide was shocking. With the help of other federal judges, Kent was being protected by a secretive court system that has long tolerated or ignored complaints about corruption, sexism, and sexual misconduct-enabling him to remain in office for years. Other powerful judges accused of judicial misconduct were never investigated and remain in power or retired with full pay, such as US Circuit Judge Alex Kozinski and Kozinski's mentee, Brett Kavanaugh.
---
Lise Olsen is a senior investigative reporter whose work has appeared in the Texas Observer, Inside Climate News, and the Houston Chronicle, as well as in documentaries on CNN and A&E.
Author Lise Olsen is continuing to speak about Code of Silence to womens' groups, legal groups, students and book clubs in 2023. For more information or to arrange an event, email: liseolseninvestigates@gmail.com






Follow Lise on:



Tweets by LiseDigger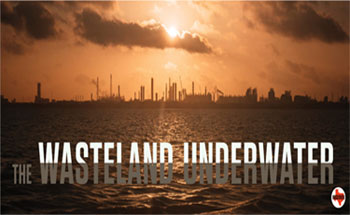 WASTELAND UNDERWATER
On the central Texas coast, Lavaca Bay is already poisoned by mercury. Climate change will only make matters worse there and at 944 other hazardous-waste sites across the country.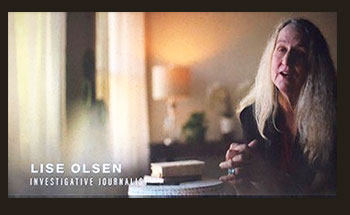 TEXAS KILLING FIELDS
An overgrown field and a stretch of highway connect a series of grisly murders spanning several decades as grieving families search for answers.